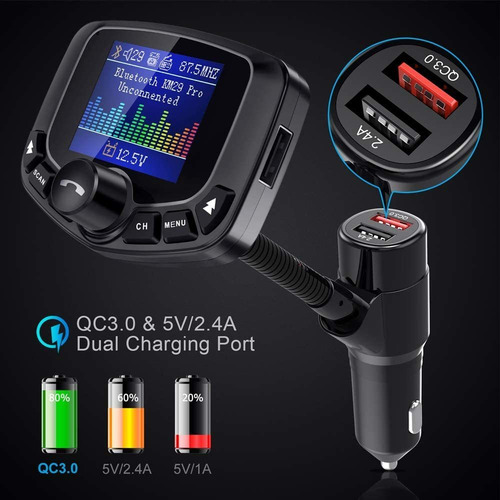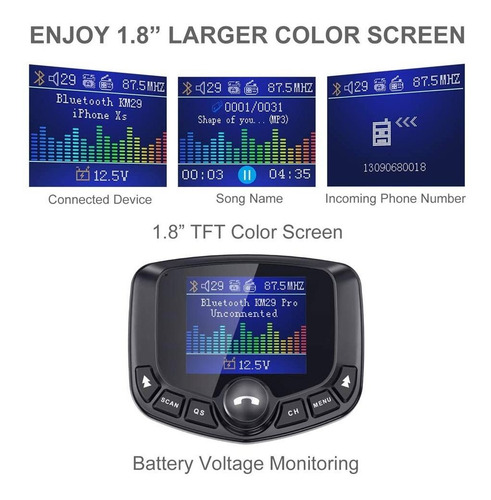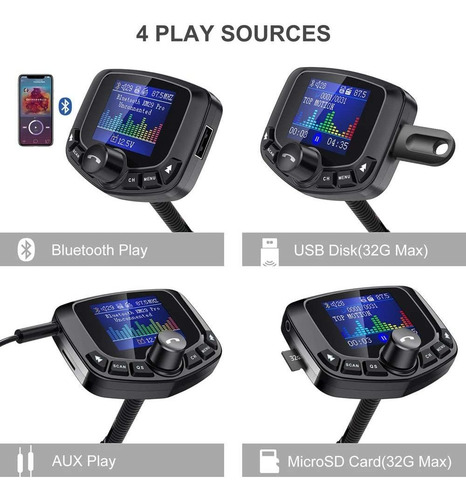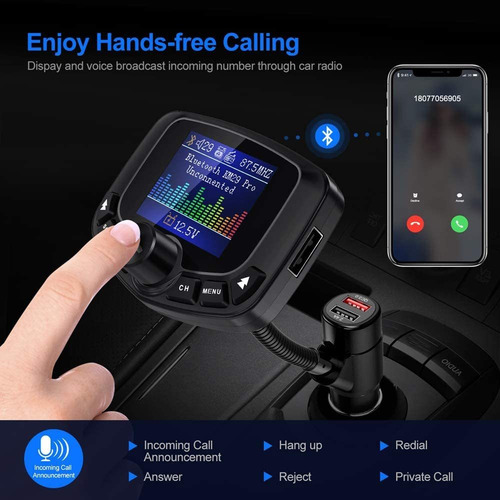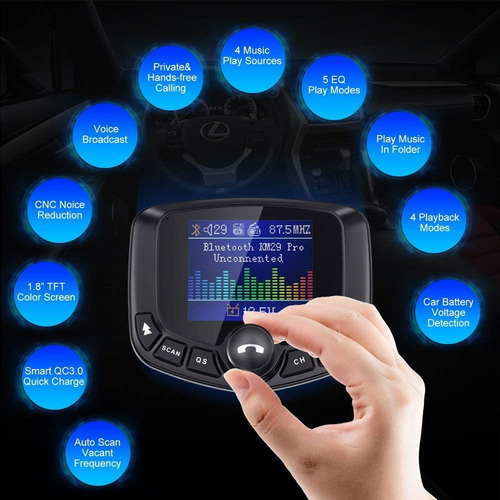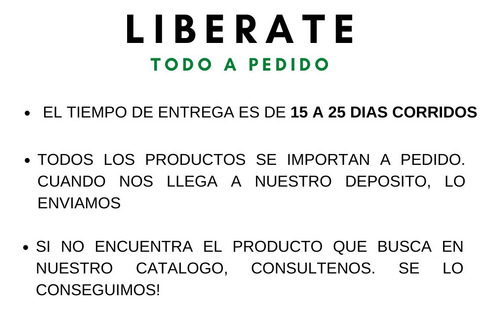 Características principales
Otras características
Descripción
TITULO:
Nulaxy Bluetooth FM Transmitter for Car, Auto Search FM Blank Channel Bluetooth Car Adapter with QC3.0& 5V/2.4A Charging, Support USB Flash Drive, microSD, Aux, EQ, Wireless Handsfree Car Kit -KM29Pro

LIBERATE - Todo a Pedido

Los productos DEMORAN ENTRE 15 y 25 DIAS corridos en llegar a su domicilio.


DESCRIPCION DEL PRODUCTO
Bring Bluetooth connectivity to almost any car with Nulaxy Bluetooth FM transmitter. Broadcast audio on an FM bandwidth to enjoy your music or make handsfree calls while you drive.

Nulaxy KM29 Pro can search fm blank channel automatically, comes with QC3.0 & 5V/2.4A charging ports to delivery high-speed charging to driver and passenger.

User Tips:
1. Please check if both the car radio and transmitter are on the SAME station. If not, please set both of them on the same station.
2. If there are statics when you listen to music, the key really to find a vacancy frequency which is an isolated fully static (sounds awful but keep going) station before you match the transmitter to the full static radio station. For example, one works best on low frequencies (Colorado) 88.9 or so. The high frequencies (102.5+) do not work as well.
3.If there is no sound when you make a phone call, you can try to turn up the voice call volume on your cell phone and volume of the transmitter.
4. Find a vacant or non-interfered frequency and sync Nulaxy device to that frequency for minimized static noise.
5. To achieve best audio quality, please set the volume on your phone to maximum and then adjust the volume for your car stereo; you are not suggested to adjust volume of your car speaker to maximum (this will bring lot noise).

DETALLES:
[Safety Functionsl]: Safety first. KM29 Pro is equipped with a voltmeter to show you the condition of your car battery. Voltage should be between 13. 2V to 14. 7V when your car is on and moving. 12. 2V to 12. 8V when your car is parked and ignition is off. [Multi-Functional]: Play your favorite songs on your car stereo through Bluetooth/ USB Flash Drive/ microSD Card/ Aux, incoming call voice prompt, fast-forward & fast-backward. You can customize music from 5 EQ styles(normal, classic, pop, rock and jazz) and 4 music playback modes (Repeat All/ One/ Random/ Folder) in USB flash drive or micorSD Card. Nulaxy provides a stable connection and echo-cancellation reduces background noise for better handsfree calls. [QC3.0 & 5V/2.4A Charging ]: The Bluetooth car adapter comes with a 5V/2.4A and a QC3.0 charging port to deliver simultaneous high-speed charging to driver and passenger, It is compatible with all USB-powered devices including Quick Charge 2.0 and Apple phones & tablets, the charging time is 4 times faster than conventional charging. [Upgraded Lanscape Screen]: This FM transmitter Bluetooth upgraded with 1.8 TFT color display lanscape screen and buttons, offers a wider visual interface for more information such as incoming phone number, track name, FM frequency, battery voltage, Bluetooth connected device and more. [Auto Search Vacant Frequency]: Nulaxy KM29 Pro Bluetooth FM transmitter for car can find vacant frequency automatically, just press AUTO button, which is the easiest way to pair channel with no radio interference.

Todos los productos se IMPORTAN a pedido. Cuando usted compra, realizamos al importación. Una vez recibido en nuestro depósito lo enviamos a su domicilio por MercadoEnvios.

ENVIO:
Realizamos Envios a Domicilio y a sucursal del correo.
Puede ver el costo de Envio desde la sección de Envios - "Ver Costos de Envio"
No es posible retirar por nuestro deposito.

Solo realizamos Factura C. NO realizamos Factura A.

PAGOS:
Aceptamos pago con MercadoPago.

Nulaxy Bluetooth Fm Transmitter For Car, Auto Search Fm B...
Información sobre el vendedor
Ubicación
Beccar, Buenos Aires
MercadoLíder Platinum
¡Es uno de los mejores del sitio!
460

Ventas en los últimos 60 días

Brinda buena atención

Despacha sus productos a tiempo
Ver más datos de este vendedor